Profile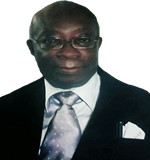 Professor Aniedi Ette is a calm, collective and intelligent scholar who began his Academic process in 1961 at Holy Trinity Lutheran School, Uyo until 1983 where he obtained his Doctorate Degree in Metallurgy from Univeristy of Arizona.
He has taught, groomed and mentored many beginning from a time he was a Classroom Teacher at a Primary School till now that he is a University Don. To his credit are 31 Journal Articles, 2 Patents, 3 Technical reports and numerous Conferences with papers presented or just attended.
His major interest in the following research areas:
Systems/Process Optimization
Mineral and Materials Processing and Development
Plant Design
Mathematical Modeling of Process Kinetics
Environmental Quality and Pollution Control
The following as Scholarship/Fellowship and Prizes to his credit:
INCO Academic Award
Phillips Petroleum Fellowship
MMRRI Fellowship
Outstanding Contribution Award – First Nigerian University Research
Development Fair, National University Commission (NUC)
Some Honours, Distinction and Professional Membership Bodies where he belongs includes:
Alpha Sigma Mu International (1978)
American Society for Metals (ASM) International (023209)
Member TMS-AIME (1980)
Member Nigerian Metallurgical Society (NMS)
Member Science Association of Nigeria (SAN) (E–149)
Registered Member COREN
Member Nigerian Society of Engineers (NSE)
Associate Member Nigerian Society of Chemical Engineers (NSCHHE) (1998)
Cited Contemporary Who's Who of Professionals (2004)
Contact
Mechanical Engineering Department
University of Uyo
P. M. B. 1017
Uyo, Akwa Ibom State
Nigeria P: +2348028846994
E:
ifindi2013edi@ymail.com
---
Thesis/Dissertation
M.S. Thesis - 1980
Ette, Aniedi O., "Recovery of Molybdenum from Super-Alloy Scraps and Waste Products"
Department of Metallurgical Engineering, University of Arizona, Tucson, Arizona
Ph.D Dissertation - 1984
Ette, Aniedi O., "Ammoniacal Leaching of Synthetic Delafossite", with Special Reference to Its Recovery from Copper Reverbertory Flue Dust",
Department of Metallurgical Engineering, University of Arizona, Tucson, Arizona, 1983. (Granted copyright status, published by and distributed by UMI, Ann Arbor, Michigan).
---
Patent
Robinson, D. J. and Ette, A. O., "Separations and Recovery of Metal Alloys from Super-Alloy Scrap", U.S. Patent No. 4,442, 073, April 10, 1984. Download
Aniedi O. Ette, Tuber Peeling Machine and Process. Registration NG/PT/NC/2013.